---
The Birmingham Small Arms Company was founded in 1861 and has consistently played its rightful part in the armament and defense programmes of the United Kingdom. In 1939, in support of the war effort, It built a new BESA gun factory at Redditch was planned, built, and put into operation with the first gun being fired ...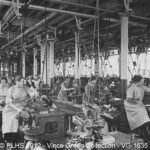 It was the Needle industries which first put Redditch on the map but the town embraced the Industrial Revolution and a wide range of industries flourished and helped the town grow. This gallery document some of those industries.
---
This page is currently still under construction. We are sorry for any inconvenience caused.
---