---
The museum is committed to a range of activities designed promote Redditch Local History in the community. These activities are aimed at various community sectors and demographics to reach residents who do not normally get involved with local history
The museum depends on the support of other groups and individuals to help organise and run events. If you would like to be involved, or have suggestions for events which fall within this remit, please get in touch.
---
We have set up a presence on facebook, Instagram and a video channel on you tube. We now need to increase our postings to there platforms and need suitably experienced volunteers to help. We would especially welcome younger generations to help. With respect to YouTube, what we are looking for volunteers to do "voice overs". We ...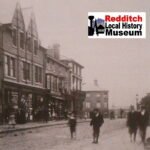 We are looking at starting two of our proposed outreach topics in the next few weeks and therefor need volunteers to help plan and action these projects. Memories Firstly we would like to set up facilities to collect resident memories, both written and oral. Activities to include establish the processes and mechanisms to record memories, publicity and ...